Contact Center Management is a tough job
Your contact center has been growing and yet it's stalled.  You take a look at management, and they don't have any answers as to what happened.  Maybe it's time to take a look at making a change in your contact centers management.  This isn't a red flag. It's what is necessary with growth.
It's okay to allow others to help
The greatest leaders understand when it is time to pick their battles.  They also learn how to delegate tasks to others when they no longer can no longer manage.  If you're noticing a stall in your contact centers growth and it's not due to lack of work, then maybe you should look to bring in some new talent.
Looking for talent can be hard, but luckily, there are a host of tools available now to post too various job boards.  The power of the internet has also made it easier to screen potential hires.  Webcams have provided a new tool for you to be able to speak to prospective talent.
Take a look within your organization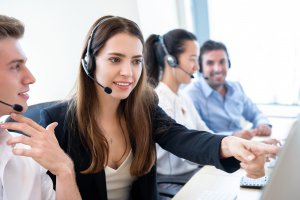 You also take a look within your organization.  Talk to your managers about employees they feel have leadership skills that could benefit the long term.  Make sure to let your managers know that this is not to overstep their boundary, but to help the growth of the business and provide stability.  This is probably one of the best routes, yet it does pose a certain level of risk.  Hiring from within can create turmoil within the organization.  Employees could feel unhappy with one of their own moving up the ladder while they stay behind.
To make sure that this is fair for all parties, let anyone interview that has enough tenure within the company.  You never know, the quietest person in the room, may have the most excellent ideas.
Either way, when looking for new management, please be open with your staff.  Let them know why you are deciding to make changes.  Your employees are smart and want to be treated as such.  If you think you can pull a fast one on them, then you will lose friends, and create more enemies than you can handle.
In conclusion, when it comes to contact center management, be open, be ready for change, and don't stop moving forward.
Thank you for taking a moment to read this blog post.  We hope that you were able to find some value in reading this, and hope to see you again.  Please don't hesitate to reach out to a member of our staff with any questions. Contact us here.